Overview
The integration between BambooHR and ABILITY SMARTFORCE® is designed to accommodate a single point of entry for staff information that is redundant between the two systems. With the integration, staff edits made in BambooHR will automatically update within ABILITY SMARTFORCE in near real time.
Configuring BambooHR integration
BambooHR integration requires configuration from within the BambooHR system and ABILITY SMARTFORCE.
Linking to BambooHR within ABILITY SMARTFORCE
ABILITY SMARTFORCE requires configuration to enable the integration. To start, click the link to set up BambooHR, which is available from the configuration widget in the top right corner. In order for this option to appear, the user's role must have been assigned the "Config – BambooHR (Admin)" permission.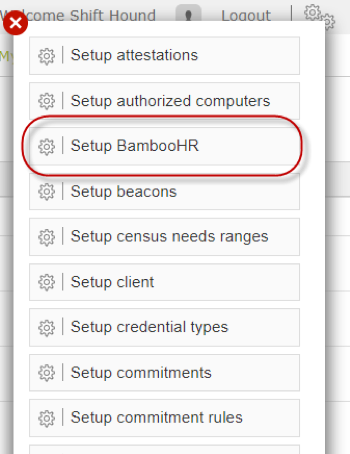 If the API key has not been configured for you, when you click the link, you will be taken to the "API Key" tab of the BambooHR configuration. If the API key has been configured, you will be taken to the "Job Types" mappings tab.
1. API key. Enter the login credentials for the BambooHR user from Step 1 above, and press "request API key."

If the credentials are incorrect or another problem occurs, an error message will appear with details regarding the nature of the problem. If the credentials are correct, you have successfully linked BambooHR and ABILITY SMARTFORCE, and the system will take you to the "Job Types" mappings tab.
2. Job Types Mappings. This is where BambooHR job types and ABILITY SMARTFORCE job types are matched. Simply select the ABILITY SMARTFORCE job type (on the right) that best matches the BambooHR job type (on the left). It is OK to leave some blank. When you are finished, click "Save Changes."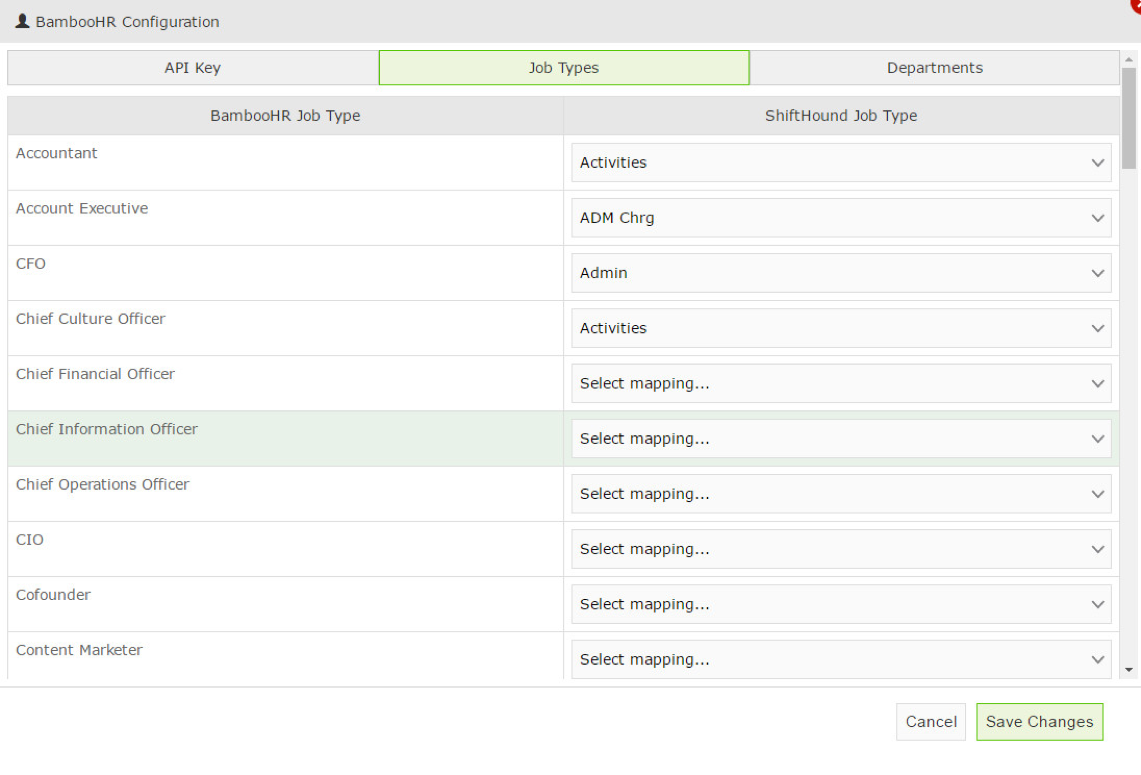 3. Department Mappings. This function is similar to the Job Types mappings function, and you will follow the same process, but it maps BambooHR departments to ABILITY SMARTFORCE departments. Remember to click "Save Changes" when you are finished.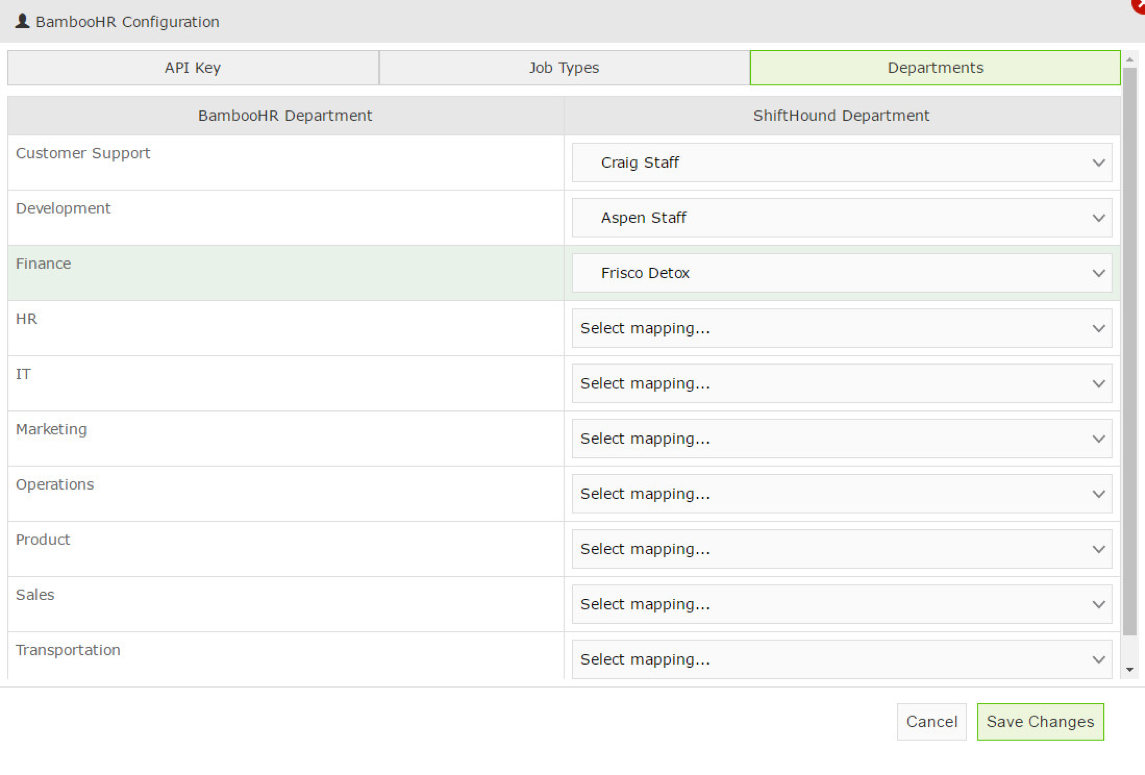 Note: A job type or department in BambooHR can be mapped to only one job type or department in ABILITY SMARTFORCE.
Data points integrated
The following data points are carried over to ABILITY SMARTFORCE from BambooHR:
| | |
| --- | --- |
| BambooHR field | ABILITY SMARTFORCE field |
| lastName | Last Name |
| firstName | First Name |
| address1 | Address 1 |
| address2 | Address 2 |
| status | Status |
| bestEmail | Email |
| city | City |
| stateCode | State |
| zipcode | Zip Code |
| homePhone | Home Phone |
| department | Department |
| hireDate | Hire Date |
| employeeNumber | Employee Number |
| terminationDate | Termination Date |
| jobTitle | Job Type |
| payrate | Wage Rate |
Transmission mechanism
ABILITY SMARTFORCE periodically requests edits from BambooHR. The frequency of such requests is configurable based on your needs. The request will query for all changes that have been made to personnel since the last request from ABILITY SMARTFORCE. For example, if you would like personnel edits to be requested every hour, ABILITY SMARTFORCE will request edits from BambooHR hourly and the edits returned will be only those edits that occurred in the past hour.
Additional information
We understand that you may be interested in scheduling only a subset of your employees. In order to accommodate that need, ABILITY SMARTFORCE will add or update only users that belong to mapped job types and departments.
Technical support request
We're here to help. If you need assistance, please click on the link below and fill out the form. You should receive an email with your case number shortly after completing the form, and someone from our team will get back to you as soon as possible.