How to Prevent Information Overload in the Workplace
How to Prevent Information Overload in the Workplace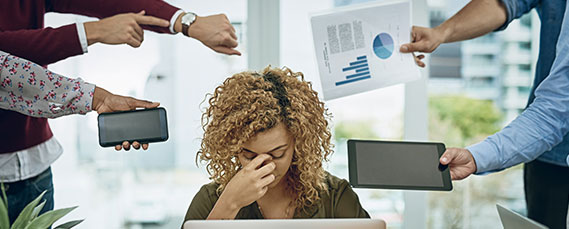 Between gathering and verifying patient data, keeping up with new regulations and managing the day-to-day operations of your organization, there's a good chance your staff is experiencing information overload.
At some point, important details will slip through the cracks and miscommunication will become more frequent. This can lead to under-performance within your organization, as well as an increase in mistakes and staff burnout.
Luckily, this doesn't have to be the case for your team.
Here are five things you can do to better prevent information overload.
1. Break down your emails
Most team communication emails cram updates, action steps and requests all into one message. To point out the main ideas, different words and phrases within one email may be bolded, underlined, highlighted or written in a color other than black. When all these differentiators are mixed together, staff members are left having to discern what information is the most important.
This kind of confusion can be avoided if you make it an organizational standard to send clean emails. Limit the important details within one email to two or three key points ideally, they should relate to one another.
This may increase the number of emails you send to your team, but it will also increase how well information is understood and retained.
2. Make patient data easier to manage
Another tip to ease information overload is to simplify how you gather and manage patient data. This may include:
Offering new patients the option to fill out forms online
Giving patients access to a portal with all their payment and treatment information
Regular staff training on coding procedures and new rules and regulations regarding patient information
Providing continued training on how to improve patient interactions to better get to the root of their condition and explain their role in treatment more clearly
There's often a gap between the information that a nurse/physician writes down at the start of treatment, the information another healthcare professional utilizes during treatment and how well a patient understands their condition. Aim to close this gap by being more clear and consistent. It will transform the kind of care your staff is able to offer and significantly enhance the patient experience.
3. Create a better patient data sharing process
If you often send patient referrals to other providers, or if most of your patients are referrals, you may want to improve how you share patient data. The more effective you are at communicating patient information, the more successful treatments will be.
When miscommunication occurs between providers, it causes a costly inconvenience for patients. Individuals are left having to track down their healthcare information from various offices before their treatment can move forward. This delays care, hinders quality and can increase a patient's risk for other conditions to occur.
But, simplifying how you share and receive patient information can make their experience much better and relieve some stress from your team.
4. Minimize out-of-work texts and calls
How often do you find yourself texting staff members to fill in for shifts? Do you have a habit of calling people on their day off?
Such communication is highly detrimental. It doesn't give your staff a chance to unwind from their work. It makes them more likely to burn out orleave your organization.
If you have an immediate need to communicate, do so over email or via your staff scheduling portal. Calls and texts make sense during emergencies, but most of the time, they just contribute to the information overload your staff experiences every day on and off the clock.
5. Ask for staff input
The final way to prevent information overload in your organization is to gather feedback from your team. Ask them how they feel about the current communication standards in place both amongst the team and with patients. See what they'd like to have more training on and set aside time to come together as an organization. Staff engagement makes it much easier to eliminate confusion and to push forward new ideas. This also ensures you don't overlook anything that needs improvement regarding the expectations you've set for your team and the patient data they work with every day.
Healthcare professionals are expected to provide personal, attentive care to everyone they treat, to drive innovation within their organization and adapt to industry changes. They can't do this effectively if they're always juggling information. Keep things clear and concise and watch how well your team and their performance responds.