How to Improve Quality Care Levels Using Patient Data
How to Improve Quality Care Levels Using Patient Data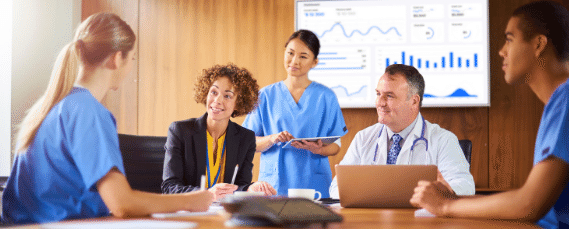 How can your post-acute care facility stand out in a saturated and highly competitive healthcare market? By improving your quality care levels, you can make your organization more attractive to referring hospitals in your area. When they see that you have a lower readmission rate than competing facilities, they'll put your name at the top of their referrals list.
Thanks to the changing reimbursement models, hospitals are feeling a lot more pressure from the Centers for Medicare & Medicaid Services (CMS) to lower their avoidable readmission rates. Readmission rates above a certain threshold will significantly reduce the revenue hospitals receive from Medicare reimbursements. Understandably, they're re-evaluating how they choose their post-acute partners.
While big market shifts like this can be disruptive and a little scary they also present an opportunity. How can you stand out and show that your quality of care is better than the competition? First, you need to accurately track patient data.
According to a recent Rev Cycle Intelligence article, hospitals are now implementing utilization management programs, which verify that patients are receiving the right care at the right time [ensuring] that hospitals are delivering appropriate, cost-efficient care. Thanks to more accurate patient data tracking, these programs empower hospitals to improve care and reduce claims denials. Post-acute providers can use the same kind of data to improve quality care levels.
Know your readmission rate
When you have the right tools, you have the power to provide the right care at the right time, for better patient outcomes and higher quality care levels. Implementing an effective application to track hospital readmissions gives you a better view of your current performance. You can see where you are exceeding expectations and where you may have room for improvement.
Identify areas for quality care improvement
Better yet, when you can see condition-specific statistics, you can get a more complete view of your quality of care for all your patients. With these insights, you'll see where you have a competitive advantage to target hospitals in your area that need post-acute care facilities like yours.
If you can identify areas where you excel and areas that need improvement, you can create an effective strategy to gain more referrals. Not only will you have the opportunity to continuously improve patient care, you'll also likely increase your market share in the process.
Compare your quality care performance with your competitors
One of the most important metrics that referral partners evaluate is readmission rates. Tools like ABILITY INSIGHTÔäó Readmission Tracker use your patient data to benchmark your performance against your competitors. You can see where their quality care levels fall short, helping your organization stand out in the competitive post-acute care market.