How Telehealth Services Can Be Crucial to Your Revenue Cycle Management Strategy
How Telehealth Services Can Be Crucial to Your Revenue Cycle Management Strategy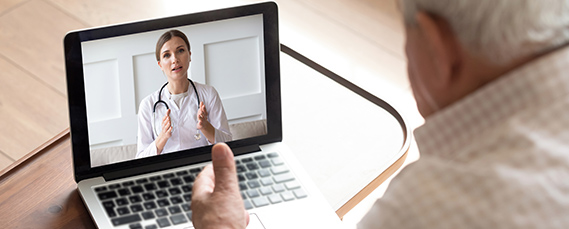 We've been hearing it for weeks: Stay at home, social distance, avoid close contact with others, all in an effort to curb a global pandemic. The rules are a bit different for healthcare providers.
In addition to pandemic-related illness, people will continue to require medical care for a variety of reasons. As a provider, you're challenged to protect your staff and your patients and still provide quality care.
Enter telehealth services.
With telehealth services, patients receive care (or a broad range of other services) from their providers without traveling to a healthcare facility. Even before the emergence of COVID-19, these services were gaining popularity from a convenience standpoint. In our current state, they have become an essential part of a provider's revenue cycle management strategy.
Supporting your revenue cycle with empty waiting rooms
To help providers continue to care for their patients, the Centers for Medicare & Medicaid Services (CMS) has made allowances and broadened access for telehealth services.
Under the 1135 waiver, patient eligibility for telehealth services will no longer be limited by location
The originating site requirement is eliminated
Physicians, nurse practitioners, physician assistants and other limited license practitioners can provide services
Telehealth makes it possible for providers to operate and collect revenue without face-to-face office visits. Even HIPAA enforcement has been relaxed and penalties waived for providers operating in good faith.
Getting started with telehealth
Regulatory changes aside, you may wonder how to begin offering telehealth services through your practice. Questions about which platform to use, how to collect patient copays and how to capture the correct insurance ID (or MBI for Medicare beneficiaries) can seem overwhelming without the appropriate tools.
Once you decide which platforms to use, you'll need to communicate this new option to your patients and ensure that your staff is knowledgeable on how to operate them.
To support an efficient workflow for your staff, ABILITY Network offers powerful applications foreligibility verification(including tools that return patient MBIs),Medicare claims managementandpatient payment collection, to keep your revenue cycle moving.
For the foreseeable future, telehealth services will be essential to keep your practice moving forward. Partnering with a single RCM provider like ABILITY can help simplify the journey.
To learn more about telehealth services, don't miss this on-demand webinar presented by medical practice management expert Kem Tolliver.