How Predictive Analytics Create Long-term Patient Care Improvements
How Predictive Analytics Create Long-term Patient Care Improvements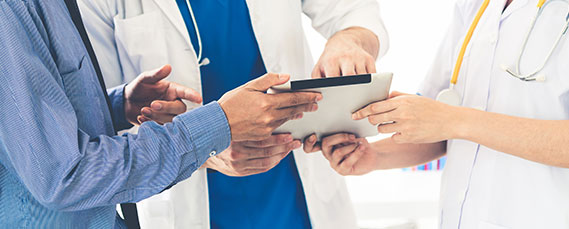 It's hard to plan long-term care improvements when you're focused on the immediate needs of the present. Between attending to patient emergencies, making time to see new patients and managing the day-to-day workflow of your skilled nursing facility, there's practically no time to sit down and anticipate future needs.
This is just one reason why predictive analytics and insights are invaluable in healthcare. While you and your team are busy handling daily responsibilities, advanced systems can work in the background to track your activities as well as patient behaviors. Then, when you have time to make sense of the data gathered, you can identify actionable steps to implement.
These can influence many parts of your day-to-day, but they have one common purpose: to improve the standard of quality care you're able to offer patients.
Here's a closer look at ¡three of the long-term patient care improvements you can accomplish by utilizing predictive analytics and insights.
1. Reduce the risk of incidents
Why did one of your patients recently experience a fall? What was it that caused another individual to mistake their medication? How often do these things occur?
These are just a few of the questions that data can help you answer. When you give your staff the capacity to track every detail of an incident, you collectively lower the risk of future incidents. The information recorded highlights areas of care you can improve to better prevent negative patient experiences. It also provides full visibility into incidents that have already occurred, which can help you prioritize which patients now require the most attention.
2. Increase intake of patients with conditions you specialize in
As beneficial as it is to record and analyze activities within your organization, you also need to keep an eye on what's happening in your market.
Having market data accessible at your fingertips greatly improves your competitive advantage. It gives you the information you need to target the best potential referral partners like hospitals who are releasing patients with conditions you specialize in.
Instead of reaching out to hospitals at random, a tool like ABILITY INSIGHTÔäó Referral Mapper offers detailed reports on local hospital releases and recent admissions by competing post-acute facilities. Analyzing the data allows you to identify the best opportunities in your local market. And by creating targeted partnerships, you're setting your team up to succeed in the areas of care they're most familiar with.
3. Track and monitor quality measures
The final way that predictive data and analytics can improve patient care is by helping you monitor quality measures. As you're tending to patient needs, intaking new patients and releasing others, predictive analytics and insights can make sense of your day-to-day activities. They'll generate reports to identify how you can positively impact your quality measures, and help you track that progress over time. With the right tool, you can even benchmark improvements against state norms and competing facilities.
The benefits of analytics aren't limited to patient care. Once you discover how to capture and make sense of all the data available to you, the opportunities to improve performance from patient care to workforce management are endless. Don't wait any longer to take advantage of this information. Invest in the predictive analytics and insights you need today to offer more successful patient interventions tomorrow.