Four Best Practices for Nurturing a Collaborative Nursing Culture
Four Best Practices for Nurturing a Collaborative Nursing Culture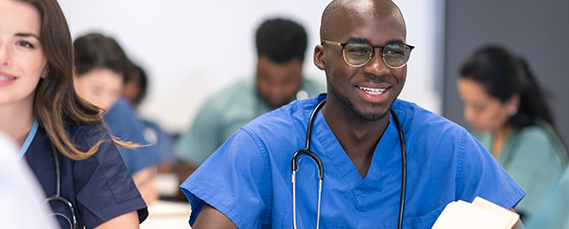 True collaboration where joint communication and decision making occur among all the members of a healthcare team is a cornerstone of quality care. Studies have shown healthcare teams who do not trust, respect and collaborate with one another are more likely to make a mistake that could negatively impact the safety of patients.
Fortunately, you can apply four best practices to nurture a collaborative nursing culture.
1. Foster open communication
Regular and routine communication and information sharing is essential to building transparency, collaboration and resident-centered care. Adopt methods and tools that enable frequent, clear communication, such as a handoff template, briefs, huddles, debriefs and mobile alerts.
2. Create a safe space for information sharing
Nursing teams deserve an environment that is respectful, nonpunitive and reinforces the value of each member's input. Develop communication guidelines that promote an open exchange of information through listening and constructive responses while discouraging any ridicule of questions or opinions.
3. Encourage shared responsibility
Nurses need to understand their individual roles and responsibilities within the team. Clearly outline who will have leadership roles and how decision making will be shared across the team, so they can collaboratively achieve the team's goals.
4. Promote constructive conflict resolution
Different perspectives, backgrounds and areas of expertise can inevitably lead to differences of opinion and conflict within a nursing team. Failure to properly address conflicts often leads to more issues and negatively affects team morale. Establish a conflict resolution process that educates team members on how to acknowledge, manage and resolve any conflict in a positive and constructive manner.
There's no doubt that a collaborative nursing culture leads to more efficient and effective resident care. In skilled nursing facilities, breakdowns in communication can lead to medication errors, resident injuries and other poor outcomes. When healthcare teams commit to the common goal of elevating resident care by bringing together each member's unique knowledge and skills, everyone wins.
Coming soon! In our next installment of this series, you'll discover three tips for improving nurse engagement in your skilled nursing facility.
See howSNFs across the U.S. help their clinical teams collaborateto elevate resident care with ABILITY CAREWATCH.
ABILITY and design®, ABILITY® and CAREWATCH® are trademarks of ABILITY Network, Inc.