Overcoming DDE password reset errors
OVERCOMING DDE PASSWORD RESET ERRORS

If you encounter error messages when logging into IVANS NOW, there's good news. The instructions and resources highlighted on this page should help you resolve the issue quickly and efficiently.

When receiving the following error messages on IVANS NOW/DDE screens, you must call the TPX Security Administrator at Medicare.
---
Contacting Medicare
Only Medicare's TPX Security Administrator is able to assist you in correcting these types of log in errors. If you contact ABILITY, we are required to redirect you to Medicare.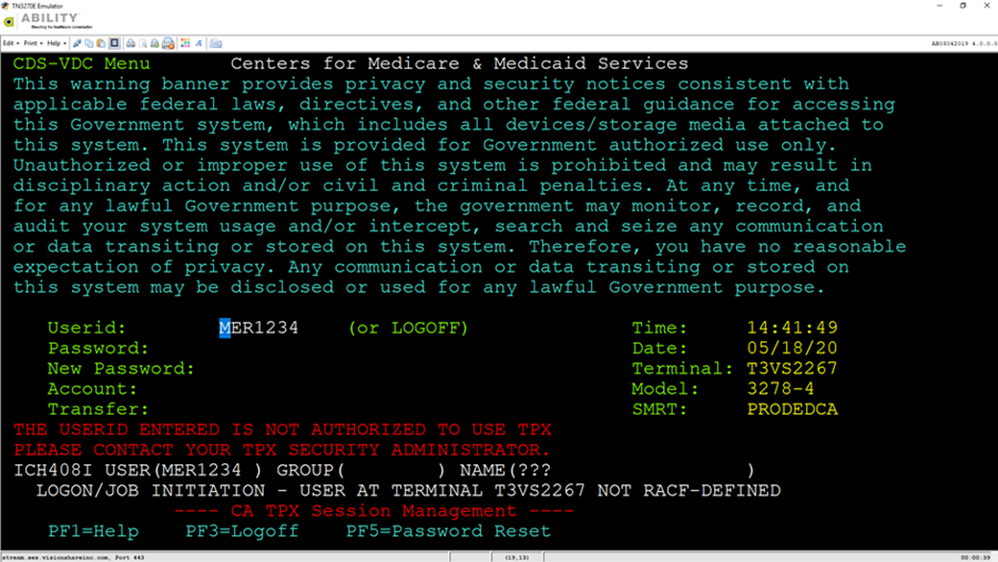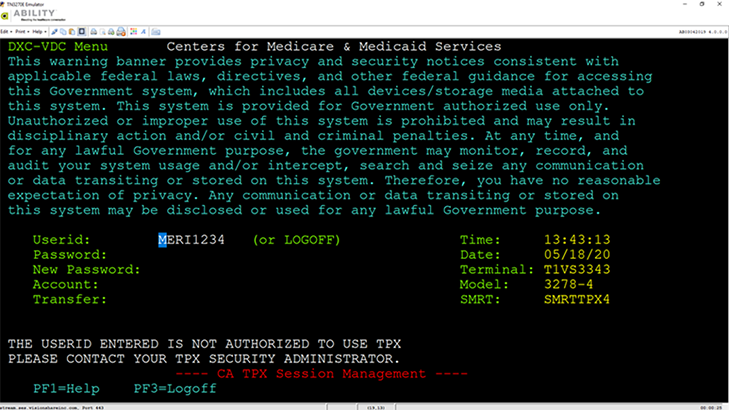 ---
Updating password monthly
Every 30 days, your DDE (IVANS NOW) password must be updated with Medicare. You'll then need to log into ABILITY EASE Medicare to enter your new password there as well. Even though your old password will let you in, you must update it in ABILITY EASE Medicare to proceed.
Please see the following screenshot for details: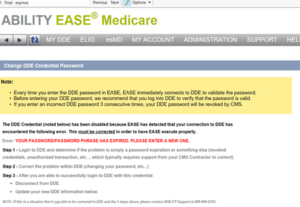 ---
Getting phone assistance
You have access to either the CDS Data Center or the HP Data Center. Depending on your geographic location, you can receive assistance at the appropriate phone number:
Unsure of your current MAC? View the most up-to-date listing from CMS here.
| CDS Data Center | HP Data Center |
| --- | --- |
| Jurisdiction 10 Cahaba: 866-582-3253 | Jurisdiction 5 WPS: 866-518-3285 |
| Jurisdiction M Palmetto: 855-696-0705 | Jurisdiction 8 WPS: 866-234-7331 |
| Jurisdiction L Novitas: 877-235-8073 | Jurisdiction 6 NGS: 877-273-4334 |
| Jurisdiction H Novitas: 855-252-8782 | Jurisdiction K NGS: 888-379-9132 |
| Jurisdiction N First Coast: 888-670-0940 | CEDI NGS: 866-311-9184 |
| | Jurisdiction F Noridian: 877-320-0390 |
| | Jurisdiction E Noridian: 855-609-9960 |
| | Jurisdiction 15 CGS: 866-590-6703 |
---
Contacting ABILITY

If you receive error messages similar to the screen examples below, please contact a Technical Support Specialist. These messages will be displayed in myABILITY: