Adjusting to Tech-savvy Millennials in the Healthcare Workforce
Adjusting to Tech-savvy Millennials in the Healthcare Workforce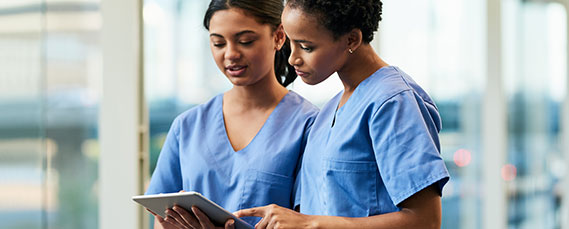 Millennials are now the largest population of working Americans. This generation makes up 34% of the nation's workforce, and many millennials are either already part of a healthcare organization or have plans to enter this industry. However, not all industry leaders understand the effects this has on workforce management.
Many long-time medical professionals are out of touch with the strengths, desires and habits of millennials. These leaders are slow to adjust to technology-based processes and new ways of thinking, which can significantly impact their organizations in a negative way.
Is your team already experiencing workforce-related issues, specifically with millennials? Are you interested in taking a proactive approach to better reach and retain millennial employees?
Here are three ways to prepare your organization for the growing millennial employee population within healthcare.
1. Improve outdated processes
Millennials have grown up with the internet. They're used to working with automated systems and intuitive programs for both professional and personal functions. They work fast and smart, often using technology to support their work.
If your organization is still sending out claims by standard mail or printing staff schedules on paper, you're not operating with millennials in mind. This population wants to be part of a team that encourages innovative thinking. They respond best to workforce management processes that save time and improve efficiency, which are only present in organizations that utilize advanced tools.
Consider the processes you currently have in place and ask yourself where they can be improved. You may choose to upgrade how you enroll new patients, bill claims, track staff credentials or capture market share. There's no limit to the progress your organization can make when you combine the right technology with a staff who knows how to use it.
2. Implement advanced communication channels
Not all improvements have to occur at a high level. Simply changing how your team communicates can make a big difference in millennial engagement. It is this generation's nature to be hyper-connected, but only when the information they need is easily accessible.
Start using an advanced staff scheduling program like ABILITY SMARTFORCE® instead of a paper-based system. Take advantage of a phone application that allows team members to trade shifts, change availability and request time off. Give them the chance to interact within the app for fun purposes, too. This may include functions that allow employees to share shout-outs or remember important dates like birthdays and work anniversaries.
Millennials won't be the only ones who respond well to such workforce management improvements. Others on your team are likely to be equally invested in the new communication channels available.
3. Play to the unique characteristics of this generation
The misconception of millennial characteristics is one of the main reasons why professionals across all fields hesitate to adjust to the needs of millennials. Millennials are often thought of as entitled or impatient. Their lack of interest in certain processes may come off as lazy. But, these behaviors often stem from a desire to work in a more efficient manner and in their mind, technology plays a key part in that.
It could be true that your new hire, age 20-25, is entitled or disengaged. Or, he/she could simply be inquisitive and performance-driven. They may be challenging upper management and the status quo because they're interested in establishing better workflows. This person might be familiar with technology you haven't tried yet. They may see the potential to lower mistakes, improve processes and/or boost engagement by leveraging new technology.
Give your millennial workforce the opportunity to present their ideas. Allow them to act on some of the initiatives they present. You'll likely be satisfied with the results. Beyond better engagement, new tools or processes can potentially save money, improve the patient experience and much more.
Keep in mind these results depend on your willingness and ability to adapt to the tech-savvy millennials on your team. Make it a point to include all employees in the conversation as your organization progresses.